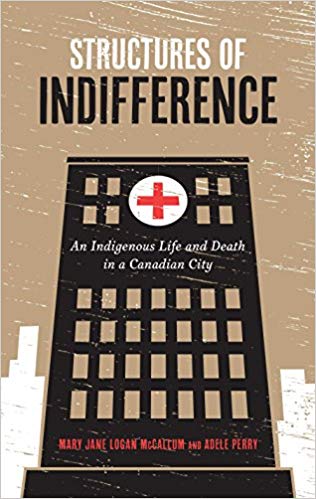 The University of Winnipeg congratulates all of the winners and nominees for the Manitoba Book Awards. Many on the list have ties to UWinnipeg.
UWinnipeg's Dr. Mary Jane Logan McCallum, Department of History, received theAlexander Kennedy Isbister Award for Non-Fiction / Prix Alexander-Kennedy-Isbister pour les études et  essais  and was shortlisted forManuela Dias Design and Illustration Awards / Prix Manuela-Dias de conception graphique et d'illustration en editionfor her bookStructures of Indifference: An Indigenous Life and Death in a Canadian City, which she co-authored with Adele Perry.
In addition,Structures of Indifferencewas recognized by the Association of University Presses' Book, Jacket & Journal Show in the Scholarly Typographic category. The book was recognized alongside that of Canadian colleagues such as University of Alberta Press, as well as Duke, Columbia, and John Hopkins university presses.
To see the complete list of winners, please visitManitoba Book Awards.